Здобуток.
Заклинання.
Cost: 3.
Test Icons:
Застосовність (4 заряди).
Витратьте 1 заряд: Атака. Ця атака використовує замість і наносить +1 рану. Якщо під час цієї атаки був витягнутий символ , , , або , отримайте 1 жах.
Brian Valenzuela
Базовий набір #60.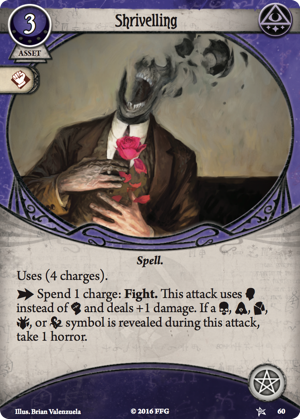 The "If a symbol is revealed..." effect triggers during Step 3 of the Skill Test Timing.
Last updated
How come no one is wondering about that rose? A person in a suit getting shrivelled to nothingness with a rose in their hands? Is it a Mafia threat thing getting an emphatic answer? Some weird burial? WHAT IS GOING ON? Well, at least the flower is not affected.
the rose could be the cause of the spell, all this time we have been handing out roses ...of DEATH. —
Zerogrim · 282
But the flower isaffected, isn't it? It's dropping petals. —
Susumu · 315