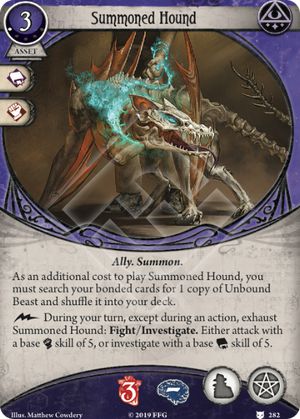 Extremely nice Ally for our girl Agnes Baker
She once had an addiction to Painkillers, though hard to manage, she figured out that a Summoned ally would make her problems disappear.
Same 3 health, although more damage and an investigating ability.
The way to put the dog in play is somewhat complex to manage: You either discard it reaching over your hand limit or discard it via Scroll of Prophecies. Then put it into play using A Chance Encounter.
Dealing with weakness was too hard on Expert difficulty.
Blood Pact will help deal with tougher enemies.