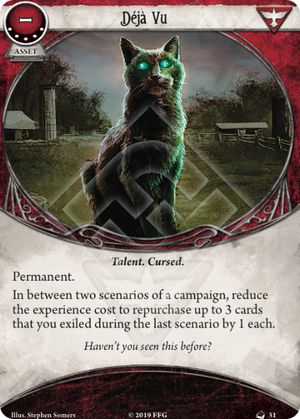 I would caution outright buying this on Yorick (unless you are using a boring Flare deck). At first this appears to be a great card for William as it makes Leather Coat(1) and Cherished Keepsake(1) seem like a no-brainer as the fear of them being used up and exiled goes away with Déjà Vu. However you're less likely to actually burn through an entire upgraded Coat(1) or Keepsake(1) and need Déjà Vu on Yorick than you think. You should totally buy the Coat(1)/Keepsake(1) upgrades, those cards are amazing, but hold off on Déjà Vu on Yorick unless needed. Let me explain:
If you have a basic 12xp drawing/cycling engine on Yorick with Emergency Cache(2) and Lucky(2), and Resourceful (to pull back Lucky) and use Cornered (2) to let you commit any item from hand into discard pile, then you will probably see two of either the 0xp Coat or Keepsake. At this point I would upgrade to Coat(1)/Keepsake(1). If you play smart asigning damage to your assets (like Guard Dog and Peter), you can easily cycle between each copy of your Keepsake/Coat by killing monsters and installing the other already discarded copy of Keepsake/Coat from your discard using Yorick's fast character ability. You would be surprised how long you can keep this loop going on Yorick. Sure, you are not getting the entire 4 soak out of the Coat(1)/Keepsake(1) upgrades doing this, but 3/4 aint bad for a 0 cost install item. You shouldn't need to soak more than 3points before you kill a monster anyway (unless it is an emergency).
---
So when should you buy Déjà Vu on Yorick?
Well, Déjà Vu can be bought after a scenario in which you just exiled cards (to free-buy them back), so you should only really buy Déjà Vu AFTER you exile cards. So Déjà Vu becomes a backup plan. However I've found on Yorick you don't actually get around to exiling cards that often (unless you have a Flare deck - then you'll need Déjà Vu!). If you are mid campaign and just exiled 2 soak cards, re-buying those exiles is still cheaper than outright buying Déjà Vu. For all you know the next 2 scenarios you might not exile any cards, so your total rebuy of exiled soak cards on Yorick can often work out cheaper than 5xp to buy Déjà Vu. Also exile cards can be sort of cheap gap filler cards to get through particular tricky scenarios - you may revert to the 0xp versions even, as 2 soak cards often do enough most of the time for Yorick anyway!
Things to ponder!
Was going to counter with some cool exile card for yorick but turns out all the super powered stuff I thought exiles just doesn't, though test of will (1) looks like an obvious include if you did get the package anyway. —
Zerogrim · 171