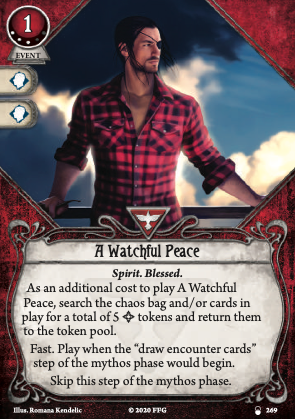 Wendy Adams can easily ruin the game from scenario 2 with FOUR EXP. 1XP for 3* easy mark and 3XP for this card. Assuming you get two keep faith and an easy mark in your hand at the start of your round, and your deck consists of 2 easy marks on top and a watchful peace at bottom. Your amulet is in play. This situation can easily be reached by drawing 3 cards per round, and discard everything else at upkeep phase. The you rearrange your deck with your amulet when it's almost empty.
Action 0: Spend 4 resources, place both keep faith on the bottom, add 8 bless. Action 1: Play easy mark, get 6 resource and draw a peaceful watch, while placing 3 easy marks on the bottom. Action 2&3: Draw two cards, both being keep faith. Upkeep: Draw one card, which is easy mark. Mythos phase: Play a peaceful watch, and now your hand and deck is identical to the previous round, so you just loop forever. Plus: You can do something else if you get more actions from Leo or Haste, and more resources and cards from DT and take heart.
In fact, this card is rarely used in our group because it destroys the fun of playing AHLCG. The game is boring when you break it. This deck also requires no thinking at all while playing. Just drawing drawing and drawing and then looping looping and looping.
The ultimate boring game is to combine a Wendy skipping every encounter cards to a Baker removing every doom. That gives everyone else infinite actions and resources, lol.
I don't think this card necessary needs tabboo, you can absolutely build a game breaking engine around it, but self regulation can come into play before that happens. You can put this card into a deck without insane recursion and it's just a powerful event that can give you a breather when you need it. It doesn't break the game or make the game boring if you don't allow it to, and it serves as a brief respite in scenarios such as The Secret Name where you the encounter deck can come hard and fast. —
alp · 7
Self regulation is not a valid argument for a card to be taboo or not, because the taboo list is already optional. —
StyxTBeuford · 12433