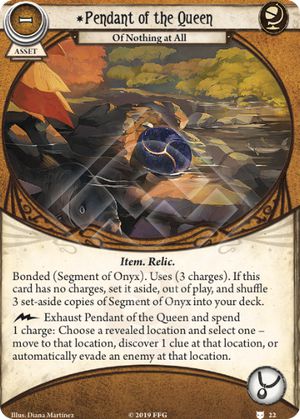 This card is S tier as scenario tech. With a deck that can assemble it, it's one of the strongest tech against dangerous Hunter enemies (and one of the few that works against Elite), and its teleportation ability is invaluable in any scenario that requires extensive backtracking.
Outside of its use as scenario tech, I'd rate the post-taboo pendant as a B+ card in multiplayer. A hot take I know but hear me out!
Without support
The pendant is always 3 testless clues globally even without support, and that's already better and cheaper than Working a Hunch. But unlike Working a Hunch, there's a few strings attached:
Assembly required: You need to assemble the pendant before doing anything. In a slower-drawing seeker deck, Segment of Onyx are dead draws that gum up your hand, costing you valuable time in scenarios that demand speed.
Limited uses: Even in a fast seeker deck, it's only 3 uses, so it doesn't work as a deck-cycling payload. Fast decks also lack for deck space due to the amount of draw they need to pack and have a hard time fitting the Pendant in for just 3 uses.
So while in theory 3 better copies of Working a Hunch can fit into any deck, it's actually quite rare to see decks taking the taboo'd pendant without building around it because of the above limitations.
Building around
Recharging the pendant creates some interesting deckbuilding puzzles with a strong payoff if you manage it: one extra testless clue a turn isn't that amazing for the support needed to enable it, but that's made up the additional safety margin the pendant adds by the other two options it gives.
Eldrich Sophist: The bog-standard way to enable such a build is Eldritch Sophist with a battery like the The Red Clock or Runic Axe, which has large opportunity costs in terms of slots or XP, resources, and play actions. It's a Rube Goldberg machine that functions only with all its many pieces in play and tends to result in a relatively slow deck*.

Recharge Tech: The alternate way is to pack recharge tech (Winds of Power, Recharge, Enraptured, etc.). The drawback here is that recharge tech is expensive and a little clunky to use, being balanced around their ability to affect mystic spells with higher action compression like Rite of Seeking, and still being limited to 1/round usage even if you cycle your deck (unless you use The Raven Quill). This is most optimal if you have other cards to recharge (hello, Luke Robinson), but it also does mean that you get also less milage out of the pendant.
The Queen of Nothing at All
In conclusion, the pendant's compression and flexibility strongest in solo, where it's ability can single-handed clear location instantly or solve an enemy for good. In multiplayer, the pendant mainly acts as a very strong insurance against the unexpected. It bails your team out of situations you haven't prepared for and saves you from a careless team wipe.
In other words, it's a bit of a crutch.
But the better your deckbuilding and your piloting is, and the better your team is, the less likely it would be that you would actually need bailing out. If you're aiming to win more, win harder, and win faster, and you can trust your teammates, you're often better off ditching the pendant to be a leaner and meaner seeking machine.
---
* relative to another deck that uses those slots and XP for better action compression, faster clue power, and or utility/team support in other ways. The difference is magnified on Hard/Expert where you can't mindlessly cycle cantrip skills.